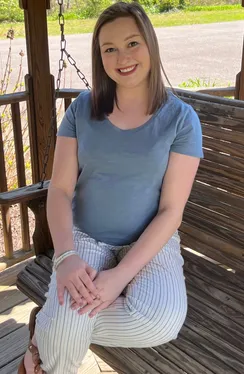 NNot currently accepting new clients as of 8/5/23
Breanna (Bre) Crisp, LCSW, CCTP
Pronouns: she/her
I am a millennial therapist who believes therapy should feel like having tea or coffee with a friend. But with that friend giving you a few hard truths, great laughs, and tools for your mental health!
Choosing to start therapy can be scary, anxiety-inducing, and overwhelming. I believe that this is your mental health journey and you made the first step (which is HUGE). Be proud of yourself! Now I would like to join you on your mental health journey.
Maybe you are feeling anxious, depressed, worried about the future, questioning your relationships, or even stressed about daily life. Perhaps you lean towards people-pleasing tendencies or have FOMO.
You might even feel uncomfortable going to medical appointments or have experienced an unpleasant or traumatic experience with a medical provider, illness, or facility. You deserve compassionate and safe medical care and I can help you navigate those feelings and past experiences.
I work best with clients who are ready to "do the work" and regain control of their mental health. I strongly believe a person's environment impacts their overall health. Therefore, I like to see the bigger picture when working with you. After all, you are more than a mental health diagnosis. I believe in a person-centered and trauma-focused approach to care. This means YOU are the center of treatment.
In our work together, I will utilize interventions such as cognitive behavioral therapy (CBT-great for a wide variety of challenges and stressors and works to challenge negative thought patterns), attachment theory (have you heard of anxious/avoidant/secure attachment?), internal family systems (parts work-think about anxiety as a part of you or your inner child) and other evidence-based therapeutic practices. However, the most important intervention I believe in is the therapeutic relationship. This is why we will work through having tough conversations, getting to know one another, and laughing and even crying as a means to humanize the therapeutic experience. After all, you are the expert in our sessions.
I also will incorporate resources such as work from Brene Brown, attachment quizzes, The Five Love Languages, The Enneagram, boundary exploration, and other inventories to build on self and our work together.
I have specialized training in Internal Family Systems (IFS) specific to inner child healing work. I also have training working with adults of emotionally immature parents (adults of dysfunctional/alcoholic families). I have training expanding my knowledge of the psychological impacts of medical trauma. This is trauma resulting from unpleasant and/or harmful healthcare experiences. I am a Certified Clinical Trauma Professional (CCTP) which helps me to provide clients with trauma-informed treatment. I have completed Level 1 Training for Dynamic Repatterning Attachment experience (DARe). This allows me a deeper understanding of attachment theory and helps clients with any style of attachment work on being more secure. I am a medical trauma-informed professional receiving my post-graduate certificate in medical trauma from Xavier University
Some things about me: I have a Dachshund puppy named Brody. He is very spoiled and loves to make a grand appearance in our sessions. Some of his favorite things are pup cups from Starbucks and long naps on the couch. When I am not wearing my therapist hat, I am either making earrings, drinking coffee, or watching some reality tv!
I graduated with a Bachelor in Social Work (BSW) from The University of North Carolina at Greensboro and earned my Masters of Social Work (MSW) from The University of North Carolina at Charlotte. Through both experiences, I was able to work in a variety of settings including Community Mental Health and Integrated Behavioral Health through Atrium Health Care System.
I published two books validating those who have experienced Domestic Violence and align with my interest in Medical Trauma. These books are Unstuck: The Reality of Healing and Living Through an Abusive Relationship, and My Medical Appointment Notebook. This is part of my work in advocating for those who have lived experience and providing survivors and those who experience chronic illness a voice.
If you are ready to take the next step in your mental health journey, I would be honored to meet you and so would Brody!
register and schedule here Not currently accepting new clients as of 8/4/23
In network with: Aetna, Blue Cross Blue Shield (most plans), CBHA (Carolina Behavioral Health Alliance), Cigna/ Evernorth, Medcost (most plans)
Meet my co-therapist, Brody.
You will see he loves meeting new people and will be a part of your journey.
He can't wait to meet you!