---
Laura Frohboese, LCSW (pronounced FRO-bose but call me Laura)
owner & therapist
You worked hard in school and did all the "right" things but you don't feel as happy as you could be or maybe just don't feel like yourself. I get that and I want to offer you some concrete ways to be at peace with your life.
Maybe you find yourself repeating the same patterns, having the same interactions, or feeling a certain way about yourself. I balance truth and tact, giving genuine feedback. I have over 20 years of experience helping adults overcome depression, anxiety, and life stress. Sometimes you're depressed & sometimes your life is depressing-usually it's some of both. I address both, helping you change the way you think, act, & feel, while also looking at your whole life situation, environment, lifestyle, friends & stressors.
I strongly support the recovery model; I help people overcome challenges and not just manage them. Who wants to just "manage" depression? You can manage feelings better in the moment but you also want to understand the root causes of them and make meaningful changes; you don't have to let your feelings control you.
I've loved living in Charlotte since 2000. I grew up all over the county & then went to school in the Boston area. I loved my time at Holy Cross and Boston College but when I had enough of the winters, the high rent, and 5th floor walk up apartment, I moved back south to be close to my family. I'm a Licensed Clinical Social Worker specializing in individual therapy for adults and maintained a private practice in the Elizabeth neighborhood from 2009-2022. Since most people preferred telehealth, all sessions are on a secure video platform now.
I had a paralyzing fear of public speaking until I joined Toastmasters in 2010. I went from being terrified every time I spoke in public to entering speech contests and competing at the state level! I wrote cartoon books about humor in social work and love presenting to large groups. If I can do it, you can too! Let me help you overcome your fears and challenge yourself.
For "fun" I entered a speaking event in which we each presented 20 slides for 20 seconds each. It was one of my largest audiences, 350 people at the Neighborhood Theater: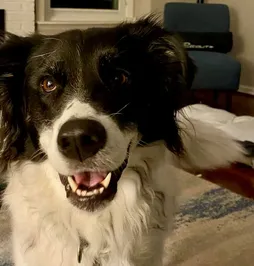 my Golden Retriever/ Dalmatian rescue pup who sometimes barks in the background and sleeps under the desk
Join video session here: https://doxy.me/laurafrohboese...
registration & scheduling: https://portal.therapyappointment.com/index.cfm/public:therapistdetail?directoryId=11ecdc93b195bae6a8a50e3b532c70b5
In network with: Aetna, Blue Cross Blue Shield (most plans), CBHA (Carolina Behavioral Health Alliance), Cigna/ Evernorth, Medcost (most plans)